Andy Allen's Sweet & Sour Blue Swimmer Crab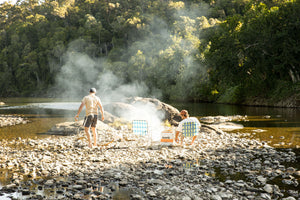 Travelling back to the Hunter Valley where I grew up and visiting Mum and Dad always brings back memories of where that love of cooking, eating and drinking beer all began. Getting out on the family tinny to see what we could catch, and then heading back to our house in Fingal Bay to cook up the catch would always result in a decent fresh feed. And, naturally, a couple of coldies in the backyard.
Ingredients
3 blue swimmer crabs, cleaned and cut into 6 pieces

2tbs oil

5 long Thai chillies, sliced - seeds in or out,

 up to you

2 decent thumb size pieces of ginger, finely sliced

4 garlic cloves, sliced up

3 eschalots, sliced up

Roots and stems of half a bunch of coriander, give em a good wash

2 punnets of cherry tomatoes, halved

4 kaffir lime leaves

3tbs sugar

200ml of travla

1.5tbs fish sauce

Juice of 2 limes

Extra coriander leaves
Method
Grab a large, pot, frying pan, wok or whatever you

'

ve got with a lid and whack it on a high heat. 

Pour in the oil and then whack in chillies, ginger, garlic, eschalots and coriander stems. Cook these out for about 10 minutes, stirring occasionally so they don

'

t burn. 


Next toss in the cherry tomatoes and sugar and cook for 5 minutes until the tomatoes have collapsed.


Pour in the beer and let this boil for about 5 minutes.


Add the fish sauce, followed by the crabs, and toss the crabs in the sauce.


Pop a lid on and cook the crab for 6 minutes. 



Lastly squeeze over the lime juice and scatter over some coriander. 
Travla Beer
Beer advocate